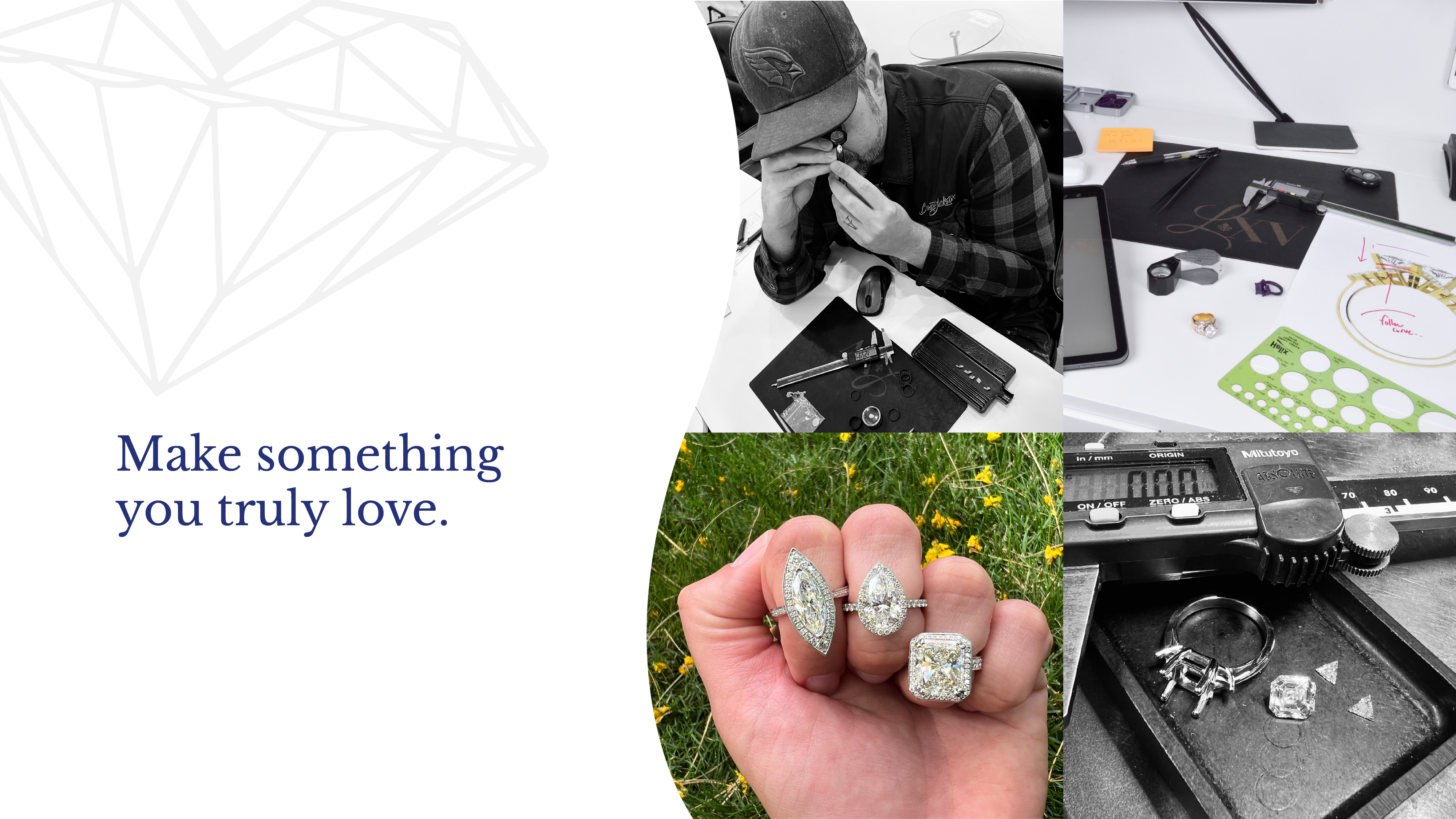 Meet with Ethan
To get started, schedule an in-person or virtual meeting with Ethan. You can schedule by phone, email, direct message through our contact page, or any social media platforms. During this meeting, you and Ethan will get to know one another. We will discuss your goals, design inspiration, budget, and timeframe so that you can enjoy the entire custom design experience. Ethan will discuss all possible options and answer any questions throughout the whole process. We do not expect you to know what you want or even have any jewelry knowledge; the process is completely tailored to you and your needs. For us, this is a collaboration with you in creating your perfect custom piece. We can't wait to meet you! 
Please click here to schedule your meeting with Ethan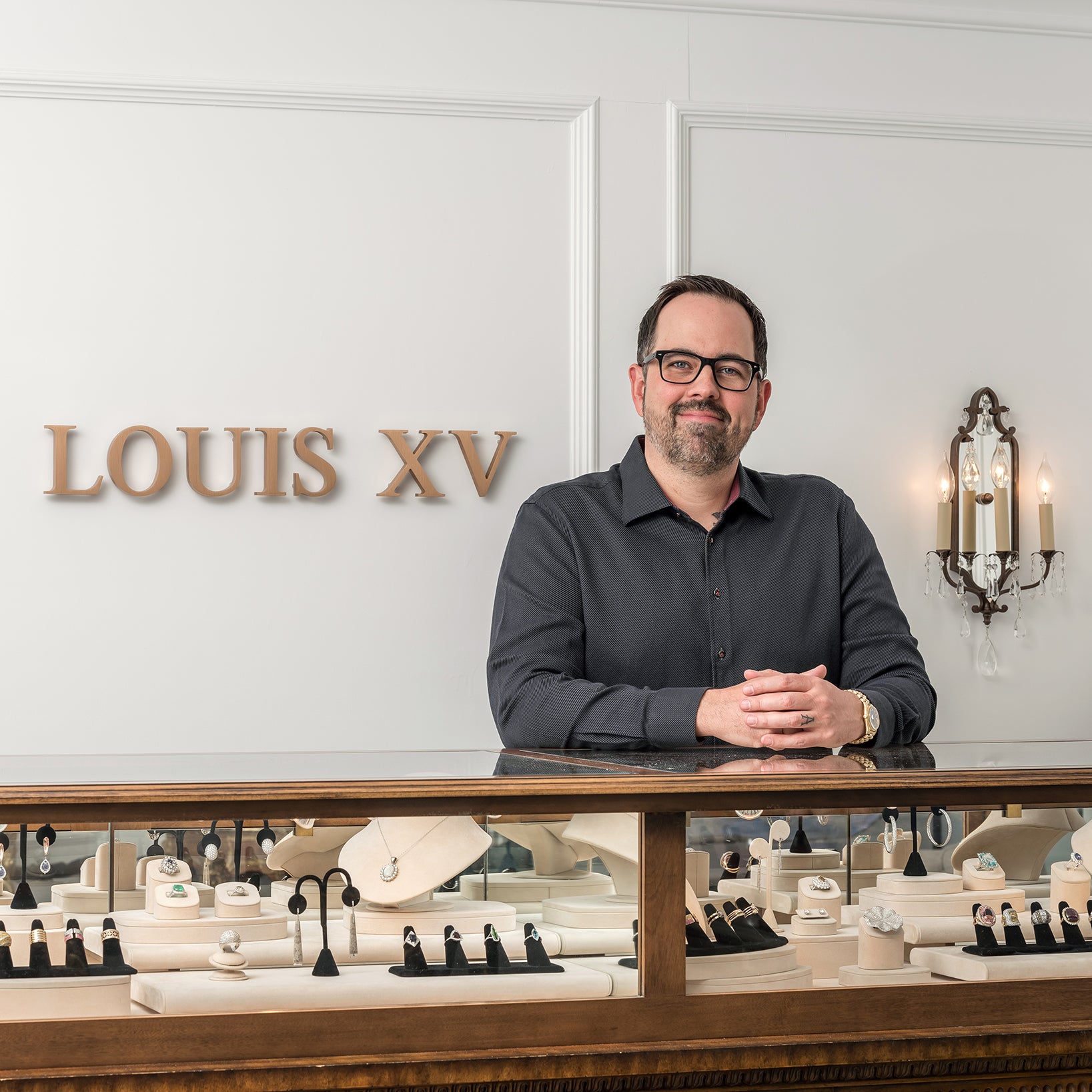 Choose your stones
No limitations! We take so much pride in our ability to source a wide variety of diamonds and gemstones worldwide. Because we maintain impeccable relationships with our exclusive and conflict-free diamond and gemstone dealers, we can help you handpick the perfect stones for your one-of-a-kind piece of jewelry. We are always eager to search for something we have yet to work with; pushing the envelope is fun! We can do these stone showings both in person or virtually.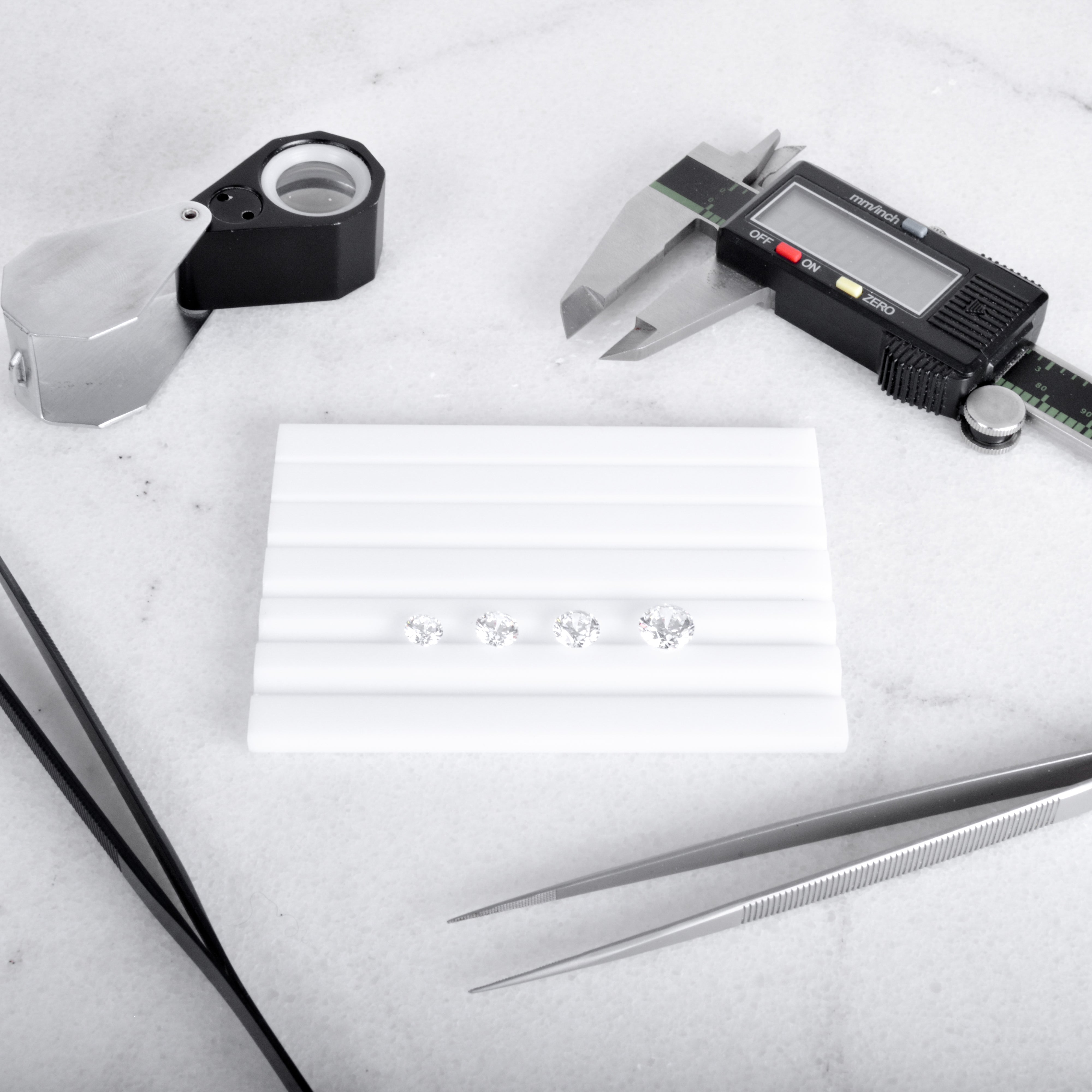 Design
Once a stone choice is made, it's time to begin the very exciting process of designing! Every project is unique, so the design process is as well. Taking into account all prior discussions about your design inspiration, personal taste, and lifestyle, we will send you lifelike renderings of your custom jewel using our CAD (computer aided design) design software. Because these designs are digital, we can make as many adjustments as you would like. CAD is a very powerful design tool, as we can thoroughly show every possible design option.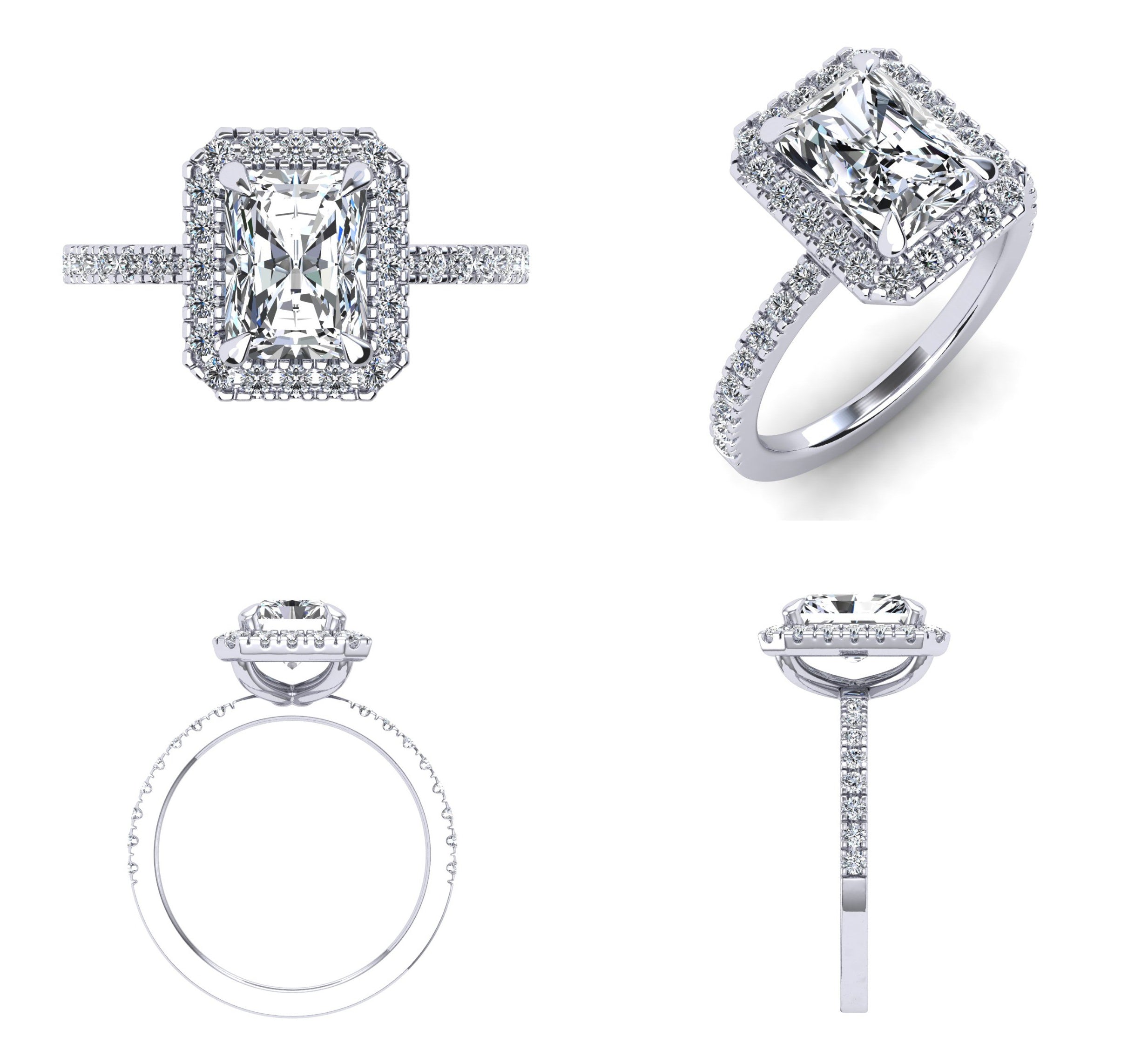 3D printed models
Digital CAD renderings alone paint only part of the picture. We provide you with our 3D printed models to compare design options and give you more context along with the digital design renderings. You can try these on and feel design elements and check overall size, heights, and widths. Models are also used to test fit stones and accompanying bands and make other necessary design changes.
Production
When the digital renderings and wax models are approved, it's time for the real magic to happen! Our small team of master jewelers gets to cast the 3D-printed wax model into your desired metal and set your stones according to the digital renderings. Our skilled hands will work many hours using powerful 30x magnification microscopes to ensure we deliver your custom piece finished to our highest standard to last a lifetime.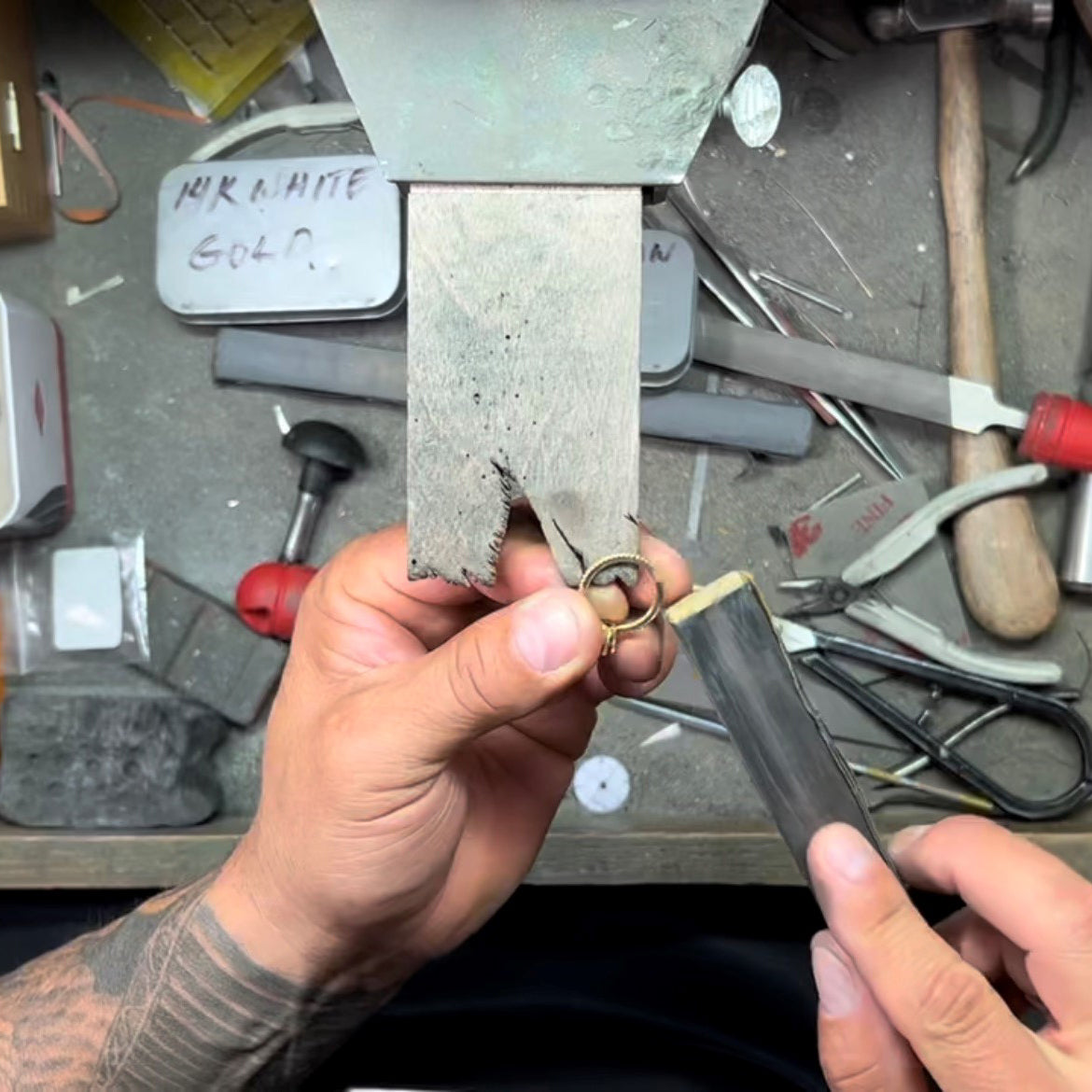 Delivery
Now comes the best part, delivery! Your custom Louis XV jewel will come in our signature Louis XV packaging with an appraisal for insurance replacement and any other documentation or certifications. You can pick it up in person (with a hug) at our Phoenix design studio or have it shipped directly to you. All shipments are fully insured and require your signature for delivery.  
Please click here to learn more about our shipping, warranties, and other policies.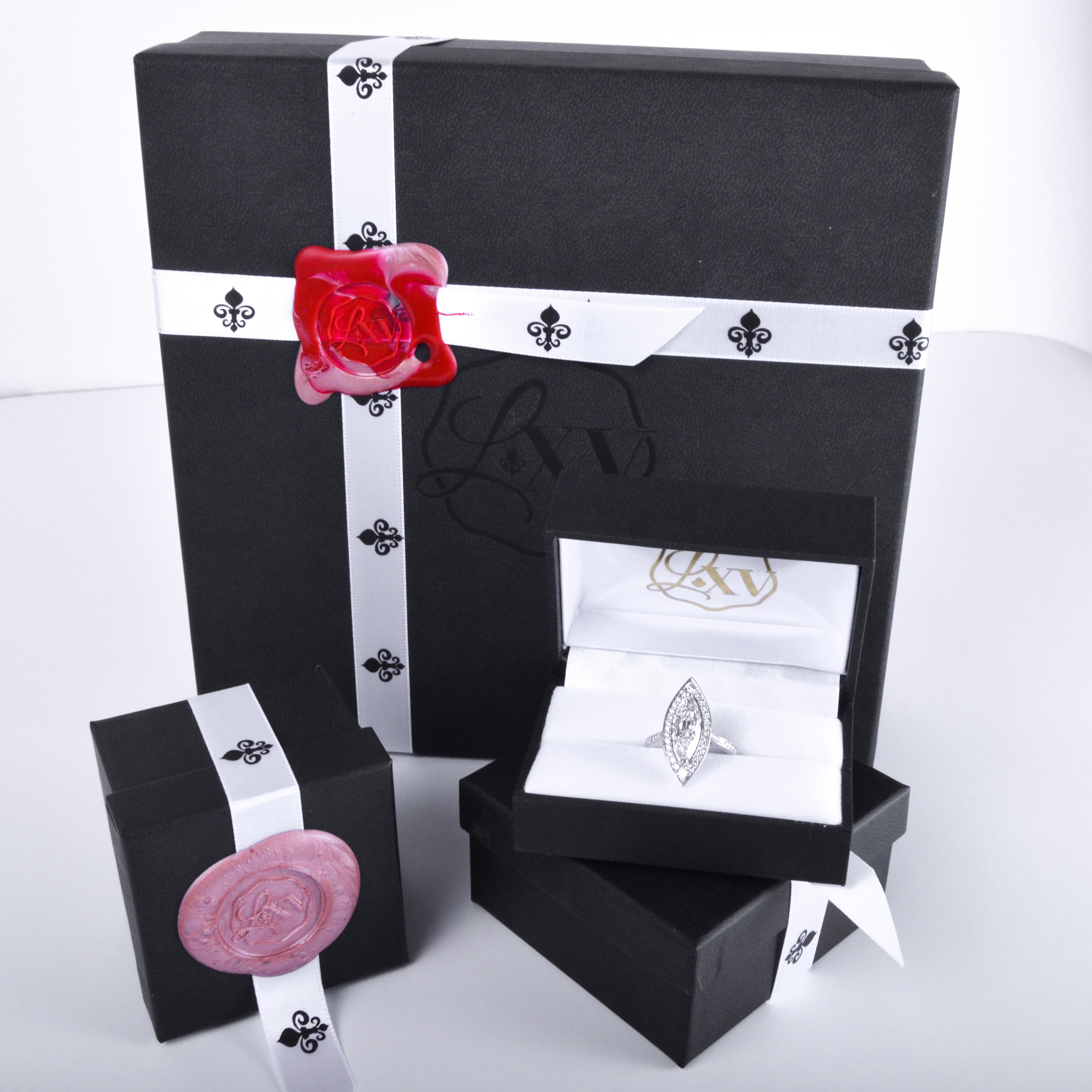 Louis XV Testimonials
Ethan is dedicated to creating the most beautiful and quality custom designs for his clients. When you work with him you feel how much he takes pride in his work and his enthusiasm for his craft is contagious. Every time we have worked together has been a true pleasure and the delivery of his final piece is always jaw dropping and sentimental.
Ethan and his staff at Louis are absolutely the best! They operate across all budgets focusing on people, not profit. My family (grandmother, parents, sister, in-laws) have all been going to Ethan for years. I recommend him to absolutely every person I know who is in the market for jewelry and as a result, those people recommend him. Recommendations and loyal word of mouth introductions are earned and he absolutely deserves them as he continually provides amazing service and exceptional jewelry. 
There is not a more personable jeweler than Louis XV. The jewelry selection process is completely fitted to you and truly made into a special event. No business has a higher recommendation from me than Louis XV.
All I can say is WOW!  Ethan is truly the best! He helped me design my wedding ring into something amazing. His ideas, patience, easy to work with, personable, and professionalism is by far the best you can find. Even his pricing was very reasonable for amazing quality. I was truly blown away by how gorgeous my ring turned out. What I love about Ethan it doesn't matter if your spending 5$ or 500k he treats everyone like a VIP.  I won't ever use anyone else but him.  Plus who doesn't love one of a kind jewelry. Thank you Ethan for being truly amazing as a person and as a Jeweler. Xoxo
I could be here all day ranting and raving about Ethan and everyone at LXV. Ethan is a breath of fresh air. I come up with some crazy idea and he always finds a way to create my idea into the most gorgeous piece of jewelry. He's made many pieces for me and made each and every one, extra special. I scream LXV from the rooftops. They're not only our jewelers, they're our family.I could be here all day ranting and raving about Ethan and everyone at LXV. Ethan is a breath of fresh air. I come up with some crazy idea and he always finds a way to create my idea into the most gorgeous piece of jewelry. He's made many pieces for me and made each and every one, extra special. I scream LXV from the rooftops. They're not only our jewelers, they're our family.
I have designed and bought jewelry in many places over many  years.   The experiences in  working with Ethan and everyone at Louis XV exceeded my expectations.  The individualized creativity and customer service are amazing.  Ethan listens to your needs, never tries to oversell and always delivers.  It is always a pleasure!  Highly recommend.   
An honorable, caring, and pleasant company to go through this process with. Ethan, the owner of the company has a big heart for people and understands very clearly the true meaning of marriage. He communicated very well with me along the way, was able to give me a stressless experience, and WOW what an amazing ring he and his team created. One of a kind and in my eyes perfectly crafted. I couldn't wait to put it on my fiancé's finger!! 10 out of 10. Highly recommend. Thank you very much Ethan for starting my marriage off to a great start… You are an amazing Godly man💙 God bless you guys
Ethan and Lindsay at Louis XV are incredibly caring, thoughtful, creative and professional. As a first time buyer of an engagement ring, I could not have asked for a better experience, education and transparent support all the way through the process. Would recommend to anyone looking for one of a kind custom jewelry!
Ethan went above and beyond my expectations, the sight of my moms remade ring brought tears to my eyes. Thank you for preserving this family heirloom!
The authenticity of Louis XV has ensured me that I cannot find a better deal for the quality that is offered. I simply wouldn't let a friend go anywhere else.
Louis VX Jewels is the only place to consider when purchasing fine jewelry. Ethan, your personal jeweler, offers a completely personalized shopping experience. He is knowledgeable, honest and fun. They carry beautiful pieces and offer custom design service.
Ethan & Lindsay are two amazing, genuine, & thoughtful people that truly care about the work they do. They bring your ideas to reality with great craftsmanship & elegance.  They are my jeweler for life!